Arden Swisher, Jr. Named MTA's Driver of the Year
The Michigan Trucking Association's Annual Safety Banquet was held on February 14 at the Lansing Lexington Hotel.  Secretary of State Ruth Johnson was on hand to present the keynote speech.  Among the honorees was Arden Swisher, Jr., who was awarded the prestigious title of 2012 Driver of the Year.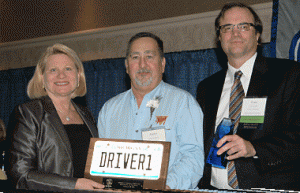 Arden Swisher, Jr. has worked for Van's Delivery Service, Inc. for over 13 years with 1.5 million safe driving miles.  He has been a professional truck driver for 32 years, covering more than 3.5 million miles and earning numerous safety awards and certificates along the way.  Arden is passionate about driving truck and seeing the country while doing so.  He is a great goodwill ambassador for Van's, and always strives to improve service.  Arden and his wife Ada reside in Martin, Michigan.