What a fun weekend at the Great Lakes Pride and Shine Event in Grand Rapids, MI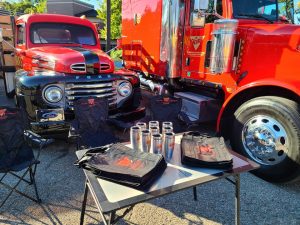 A big thanks to Bob and Tim for all their hard work on the trucks and to all who stopped out to see us!
Great Lakes Pride & Shine strives to bring the trucking industry together to give everyone the opportunity to show off their semi-trucks, and do what they do best; talking about their industry, while raising funds for a designated charity.
2021 Chosen Charity:
Starlite Shores
Their mission is to serve families living through childhood cancer with the love of Christ, offering them an environment to be relaxed, be renewed, and be restored as a family.
Starlite Shores Family Camp provides an environment where families are loved on and served all week. The retreat families are our special guests for the week and will leave with a renewed sense of hope that they do not walk this journey alone.
Contact Us
Our head office and warehouse facilities are located in Grand Rapids, MI 49544
2280 Turner NW
Grand Rapids, MI 49544
Tel: 888-SAY-VANS
Please fill in the form below and we will respond to your inquiry as soon as possible