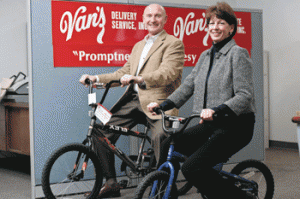 The project is possible in part because of Jean and John Nieuwenhuis, owners of Van's Delivery Service Inc., a third generation trucking, warehousing and logistics company in Grand Rapids. The Nieuwenhuises serve on the five-member board of directors of Elves & More and provide the planning, facility, logistics and manpower for a successful delivery of bicycles to more than 1,000 youngsters.
During the year, the couple matches donations from employees and helps raise the more than $55,000 necessary to purchase the bicycles. Once the bicycles are ordered, 25 workstations are arranged at Van's warehouse to prepare for the assembly by 300 volunteers.
Assembly takes place a week before the delivery. And what a glorious delivery day it is.
Once the bikes are loaded on six of Van's trailer trucks, a procession of volunteers led by the Nieuwenhuises leaves the company for arrival in the selected neighborhood. With horns and megaphones blaring, and with assistance by the Grand Rapids Police Department, the organization alerted youngsters and parents about the special delivery . The youngsters select from bicycles in enticing colors, and then they are fitted for a helmet. Children younger than three are given gift boxes.
"The bikes offer a child freedom, and it's also good exercise," Jean Nieuwenhuis said.
The couple finds the project extremely rewarding, especially because of all the volunteers that make it a point to participate.
"It's nice to give back to the community in which we make a living," Jean said.
Interview by Karen Gentry
Photo by JEFF HAGE